KaPing Baby Montessori Toys 18M+, Sensory Toys for Toddlers, UFO Food Grade Silicone Pull Activity Toy, Travel Toys for Baby, First Birthday Gift for Boys Girls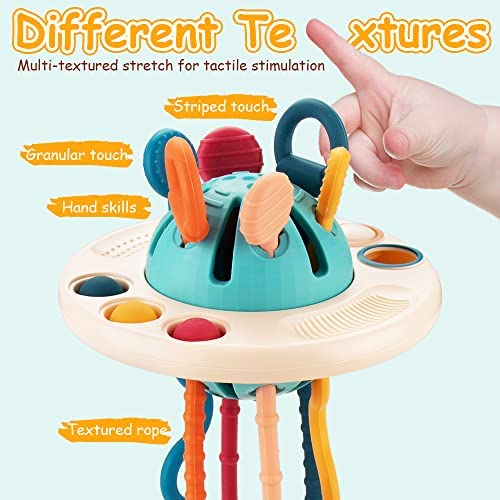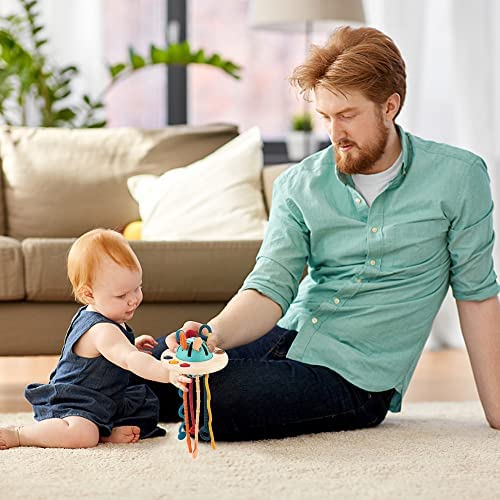 Price: $21.99 - $14.99
(as of May 25,2023 05:15:20 UTC – Details)
Product Description


UFO MONTESSORI SENSORY TRAVEL TOYS
Montessori UFO Silicone Pulling Toy
This montessori ufo toys for baby provide the perfect opportunity for baby to learn, For example:
Develop fine motor skillsImprove hand-eye coordination abilityStimulate sensory ability and thinking ability
The Cool UFO Toys for Travel are Best Gifts for Children
Develop Fine Motor Skills
The baby sensory toys there are 6 cords of different shapes, some are easy to grasp and pull, while the others are more challenging, children can pull the rope back and forth to hear and feel the vibrations from different ropes, stimulate your child's sensory abilities and Improve fine motor skills.
Slide Button
There are three holes on the side of the UFO activity cube. The baby can press the button under the guidance of the parent to slide from one hole to another hole to exercise the flexibility of the baby's little fingers, which will help develop the child's thinking ability and hand-eye coordination ability.
Popping Hole
The other side of the UFO activity toy is equipped with soft buttons, and the baby can press it with his/her hands to make a pop sound to bring more fun to your kids. It is an excellent finger sensory toy.
Age Range
0 month and up 0 month and up 0 month and up 6 month and up 3 month and up
Non-toxic
✓
✓
✓
✓
✓
Features
Visual training learning Visual training learning Visual training learning Brain development learning Early educational learning
Washable
✓
✓
✓
✓
✓
【Cool UFO Appearance】Montessori travel toys is designed in the shape of a UFO to stimulate your baby's curiosity and imagination. Rich and bright color matching can promote the baby's cognition of color, attract the baby's attention. The rope pulled up and down can promote the baby to develop fine motor skills and hand eye coordination ability, so that the baby can immerse in the world of educational games.
【100% Safe Material】This funny puller string interactive toy made with high quality silicone and ABS,100% safe material, Non-toxic, BPA and phthalate free. Easy to clean. The high quality grade silicone toys can relieve the discomfort of the baby during teething, soothe the baby's emotions, and let the baby chew with confidence. It is a great travel toys.
【Montessori Baby Toys】Duewry UFO silicone pull toy as sensory toys for autistic children, toddler travel toys, montessori ufo silicone pulling toy, educational toys, toddler toys for airplane travel, kids travel toys for plane, montessori toys. The sensory toy is sized for easy to take along, making it the perfect playmate for your child on the go.
【Best Gift for Kids】The UFO toys for travel will bring your kids more happiness, that would be the perfect gift for your baby as Birthday gift, Easter gift, Christmas gift, Children's day gift, New Year gift. Any question for the baby toys for travel, please contact our customer service. We will provide you with the most satisfactory solution within 24 hours.