Nuby Ice Gel Teether Keys, 1 Count (Pack of 1)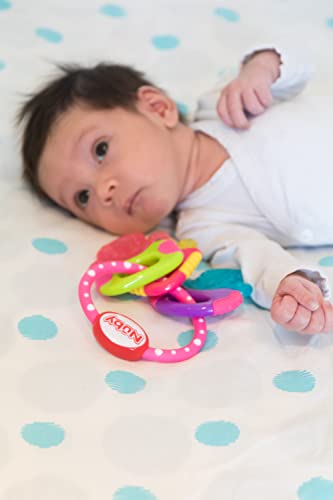 Price: $5.99
(as of May 22,2023 10:27:41 UTC – Details)


The Icy Bite Keys by Nuby is another innovation in the natural teething process as well as a toy, which combines exercise for young hands, gums and teeth. Ideal for those who are just getting their first teeth, this soothing item helps keep children comfortable. This Nuby teether also features areas filled with pure ice. The cool resilient surface soothes and stimulates sore gums safely and stays colder, longer than water filled teethers. The colorful key shapes with raised, offset surfaces assist in the eruption of teeth by gently massaging infant's gums. The colorful shapes are also easy for baby to hold and sized for maximum effectiveness as a teether and soother.
When placed in the refrigerator Nuby's pure ice technology provides gentle cooling on baby's gums.
Easy Grip design is ideal for little hands and helps with coordination.
Bright colors stimulate the senses.
3+ months / BPA FREE.