EUDEMON Baby Safety Electrical Outlet Cover Box Childproof Large Plug Cover for Babyproofing Outlets Easy to Install & Use (Transparent)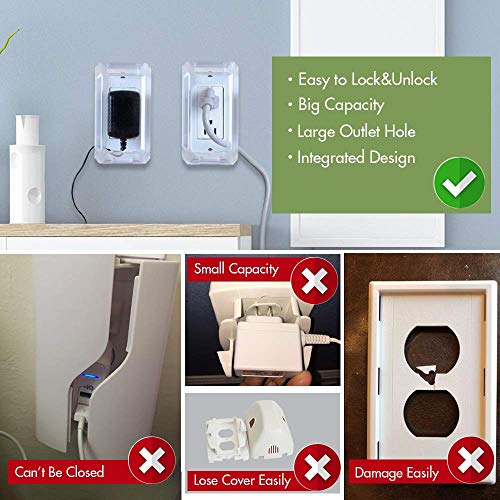 Price: $11.99
(as of May 21,2023 21:16:29 UTC – Details)
From the brand
EUDEMON Baby – Door Lock
EUDEMON Baby – Oven Lock
EUDEMON Baby – Fridge Lock
EUDEMON Baby – Freezer Lock
EUDEMON Baby – Window Lock
EUDEMON Baby-Electrical Safety
★One-hand operation & Easy to use—Special double button design makes adults to open or close the outlet cover box with just one hand easily but hard for children to use as their hands are not big enough. Comparing with the current products on the market, EUDEMON's outlet cover box is not only easy to use but also safe for children/pets.
★Why need it—Prevent children or pets from playing with the socket holes or the wires. Plug covers on the market can only prevent baby from touching the socket which is not in use, but EUDEMON outlet cover box can protect babies from electrical shock all the time, also dust-proof and water-proof.
★Wide range of applications—Proper size of the cover makes it suitable for most household plugs. There is one large outlet hole on each side whose diameter is 0.49″(1.25cm), the wires can come out from both sides of the cover, increasing the applicability of the outlet cover box, no matter the wire is thin or thick.
★Color—Two colors can be chosen, white and transparent, both can be incorporated into the home environment after installation and won't attract babies' attentions.