Cabinet Locks Child Safety 12 Pack | Baby Safety Cabinet Locks NO Drilling 3M Adhesive Baby Proof Drawer Lock Child proofing cabinets latches for Kids Latch for Drawers & Door Child Safety Locks

Price: $19.99 - $11.99
(as of May 17,2023 23:22:59 UTC – Details)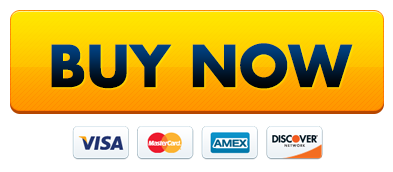 Product Description
Worried about your precious child sneaking in your cabinets or drawers. Worried about cabinet locks ruining the clean look your home has. Worry no more! SUNIRY Baby Cabinet Safety Latches are a safe and invisible baby proof drawer lock that keeps your kid safe and home neat. Your child safety is our #1 priority.
Keep them safe
Our children are our lifeline! We would do anything for them, we would never let anything happen to them! Let us keep them safe from the many dangers that lie in our kitchen cabinets. Baby locks for cabinets are the best way to do that.
Keep it Clean
Let us keep your kitchen as clean and neat as you would like to have it. Our child cabinet locks have a invisible design that will not take away from the beauty of your kitchen.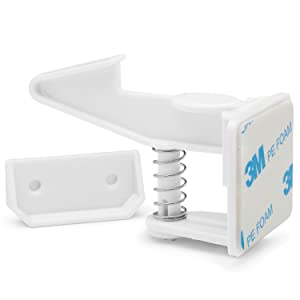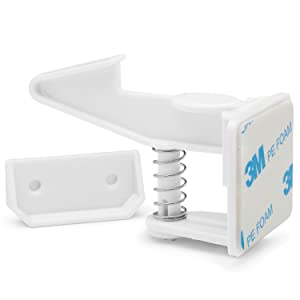 SUNIRY Baby Proof Cabinet Latches
We stand behind our products; making sure you are 100% satisfied. With SUNIRY Childproof Cabinet Locks you cant go wrong!
👶🏼 EASY AND CONVENIENT ➜ Our cabinet locks are so EASY TO INSTALL with no tools at all. Peel the film; stick it on and your all set. If your drawer has something to hook on to, you don't even need to stick on the buckles.
👶🏼 NO KEY ➜ These safety locks for your child require NO KEY TO OPEN the locked cabinets. No worries about loosing keys.
👶🏼 UNIVERSAL FIT ➜ Supplied with catch and latch, virtually ANY CABINET, DRAWER and CLOSET can be made baby safe. And your furniture will be left undamaged when it's time to remove the baby proofing.
👶🏼 INVISIBLE DESIGN ➜ These locks are designed for the inside of drawers and cabinets which will not get your curious baby's attention or destroy the beauty of your furniture.
👶🏼 PERFECT BABY SHOWER GIFT ➜ These make for a great baby shower GIFT or new baby present. New parents will be prepared when their infant begins crawling.