Baby Infant Rattle Socks Toys for Babies 0-3-4-5-6 Months, Newborn Sensory Soft Toys for 0-3-6 Months Old, Boy Girl Developmental Gift Toys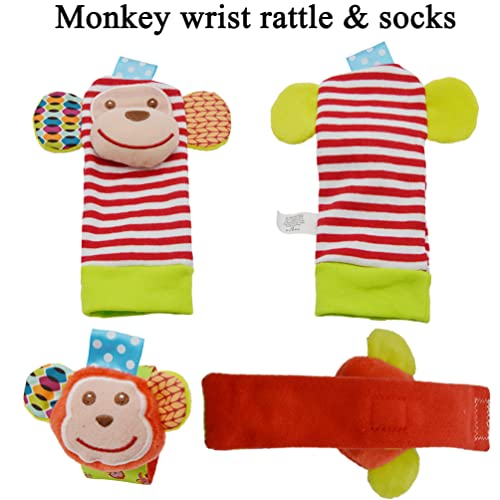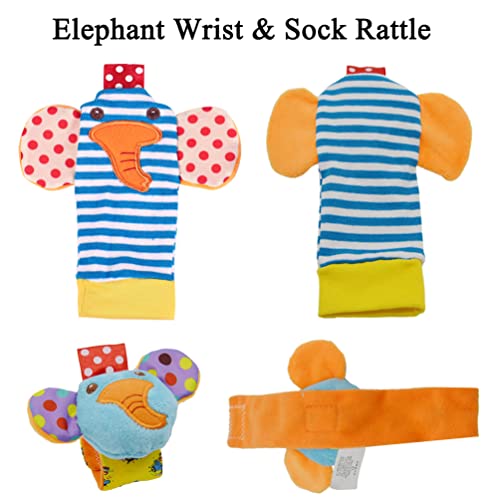 Price: $10.99 - $8.99
(as of May 28,2023 16:24:45 UTC – Details)
Product Description
Wrist Rattles & Foot Rattle Socks
For 0-3-6-12 month babies
Detail:
Material: Soft knitted fabricColor: ColorfulWeight: 1.44 ouncesWrist rattles size: 6.45*1.18 inchFoot rattles toys:5.7*2.36 inchProduct Dimensions: 7.09 x 3.27 x 2.17 inches Package includes:
2 * Baby Wrist Rattles 2 * Foot Rattles Socks
The Ideal Baby Gift Baby shower gift Baby birthday gift Christmas gift Holiday gift Infant gift Gift for baby boy girl
Are you worried about how to soothe your baby to eat, bathe and sleep? The baby rattle toys could help you to do that. It will bring more fun to baby when they are in car seat / dining table / tub / bed or other occasions.
Attract attention
These baby toys are built-in rattle and crinky paper design, which will make a soft sound when grip it or shake it. That could atrract baby's attention and help to improve their auditory development.
Soothe emotion
These baby rattles have special and funny pattern, that could divert baby's attention and soothe their emotions when the baby is crying and noisy.
Eye-hand coordination
These newborn toys have bright color and soft sound that will attract baby to touch and grab, which help baby develop eye-hand coordination.
Adjustable & Comfortable
These wrist rattles and foot finder socks attach with a simple velcro, that's easy to wear or take off. The wrists rattles could be adjusted a suitable length to wear, that won't hurt baby's wrist.
Soft & Safe
The baby rattle socks are made of high-grade safe and soft knitted fabric, which has certain elasticity, not easy to tear. The baby rattles are more comfortable for babies 0-6 months.
4 in 1 set
The baby toys include 2 Pcs of wrist rattles bracelet and 2 Pcs of foot rattle socks, which have high-contrast colors and different animal design. It awaken baby's interest of playing, and develop baby's color recognition.
🔔 EARLY DEVELOPMENT : These wrist rattles for babies will make a soft sound when shaking, that will help your baby to develop hearing training.The vibrant color and cute animals will attract newborns to touch and watch them, that will help baby to strengthen motor skills,eyes-hands coordination,color cognition, vision cognition, and promote hearing development and voice development.
💖 SAFT & SOFT MATERIAL : These infant toy 0-3 months attach with Velcro, so they are easy to wear on and take off. The wrist and foot rattles for infants is non-toxic, that is safe for babies to use. It's made of high quality fabric and soft cottons. It's comfortable and safe for babies 3-6 months.
✅VARIOUS OCCASIONS : The baby rattle toys have a simple velcro, that could be attach on stroller /infant car seat/mamaroo/bed/baby chair. Suitable for babies playing in various place. The baby rattles 0-6 months is a funny toy for baby boy girl, that could be a good baby partner. use. It's made of high quality fabric and soft cottons. It's comfortable and safe for babies 3-6 months.
🎁 PERFECT BABY PRESENTS –This newborn rattle is a funny and safe toy for babies 0-3-6-12 month. Suitable for baby shower gift, Newborn congratulatory gift, Baby Birthday gift, Thanksgiving gift, Christmas gift, Holiday gift or just as a usual gift.