Mesh Baby Proof Netting, Safety Nets for Stairs, Children Climbing Net, Garden Decorative Fences, Heavy Duty Automotive Spider Cargo net Rope Netting (Size : 3 * 6m/9.8 * 20ft)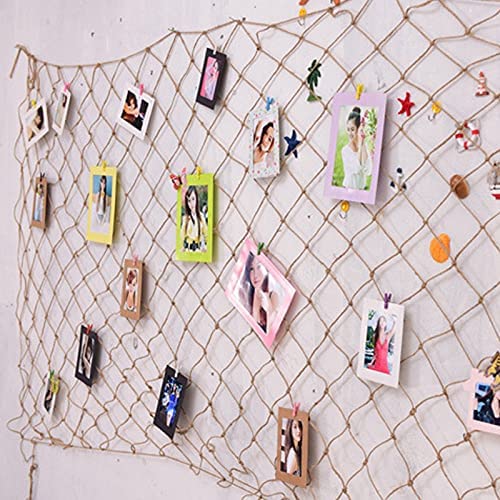 Price: $1,265.99
(as of May 26,2023 02:00:15 UTC – Details)


Fence specifications
* Name: child protection net
* Material: jute rope
* Thickness: 6mm
* Diameter: 6cm
* Suitable for woven mesh: outdoor, indoor, can be used anywhere,
* Ropes are widely used: stairs, windows, patios, gardens, photo walls, kindergartens, stadium fences, partition nets, partition curtains, plant protection nets, climbing, swings, hammocks, suspension bridges, railways, shopping malls, restaurants, amusement parks, Clothing stores, bars, hanging clothes nets, cargo trailer nets, roof ceiling nets, decorative nets, tunnel nets, baby fall prevention, pet isolation nets, child safety nets, cat nets, etc.
Protection net features:
1. The rope net is easy to install, by connecting iron or wood railings, window corridors, suitable for indoor and outdoor balconies.
2. This durable safety net provides a safe gaming environment for children on the railing. Protect children, pets or toys safely.
3. Decorative hemp net uses environmentally friendly materials, non-toxic, non-radioactive, and has no effect on the health of your child.
4. You can cut the rope into the shape and size you want, and the durability of the net will not be affected.
Safety Tip:
1.Due to the different environment and light intensity when taking photos, safety net may be some chromatic aberration, but within a reasonable range.
2.Regularly check the safety net for safety hazards caused by various external or human factors to protect safety.

Natural jute hemp rope netting, hand braided, strong and durable. Safety net Rope diameter 6mm/0.23in, mesh spacing 6cm/2.36in.
Protection net moderate softness, not easy to fade, not afraid of wind and rain, long service life,more durable, easy to install and easy to disassemble. When you don't need to use it, you can fold it up and store it conveniently.
Protect children and pets from balcony and railing accidents. Protect people from falling damage. Effect: iron nets for balconies, stairs and terraces, child safety deck guardrails.
Authentic jute handmade, natural jute material, green and healthy without chemical smell.