Magicfour Child Proof Deadbolt Lock, 2 Pack Door Safety Deadbolt Lock for Kids, Universal Size Deadbolt Child Safety Lock Cover Fits Most Deadbolt

Price: $12.99
(as of May 18,2023 12:26:58 UTC – Details)
Product Description
Simple to Install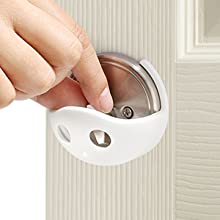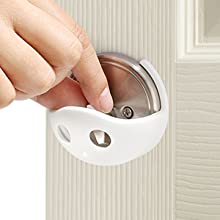 Step 1
Unscrew the screw of the deadbolt to loosen it
Step 2
Snap the product behind the deadbolt
Warm Hint: Please carefully snap the product on, the thin strip will break If too much force is applied
Step 3
Tighten the screw with a screwdriver through the hole reserved on the front of the product
Step 4
Adults can easily unlock with fingers in the space reserved above
Child Proof Deadbolt Lock
An ideal choice to prevent your little kids from opening doors when you are not paying attention. Add a sense of peace to your family.
Warm Hint:
1. Please measure your deadbolt diameter and screw distance before purchasing to make sure correct fitment.
2. Please make sure that the reserved holes on the product are aligned with the screw holes while installing.
Easy One Hand Operation: There is no way for toddlers or pets to unlock deadbolt, but for adults is very easy to open with one hand. The door safety deabolt lock for kids can meet many daily using requirement like one hand carrying baby, office bag or luggage etc.
Delicate Decor: Diameter in 2.8 inch, universally fits for most home use deadbolt, please measure the drll hole distance for a correct fitment. With ivory white and delicate design, the deadbolt child safety lock cover could be a perfect decoration for your house.
Easy to Install: No adhesive tape or drilling hole in need, the safety door lock for kids is simple to install with only a screwdriver. Just unscrew the screw of the deadbolt then snap the deadbolt lock behind the deadbolt, finally tighten the screw will be frimly install. No more damaging the door.
Safe Material: Made of food grade PP material, our toddler deadbolt locks are BPA-free, eco-friendly, which is quite safe to your baby. The shape and surface are so smooth without any sharp corners, durable and strong enough to protect your family for long term.